Award-winning Battlefield Live Pembrokeshire Laser Combat is great fun and perfect for the adventurous outdoor family.
£10 DISCOUNT FOR
FAMILY OF FOUR
 70 mins … £90
Subject to availability. Payment on booking.  Min age 9

Make Battlefield Pembrokeshire Laser Combat your first port of call in Pembrokeshire to start your adventure!
Built in 2008 and opened in 2009, our venue has been built up over the years and now boasts a unique jungle-feel battlefield, part of which was set designed by the head designer of Dr Who and Torchwood.  We are considered to be one of the leading laser combat venues in the UK.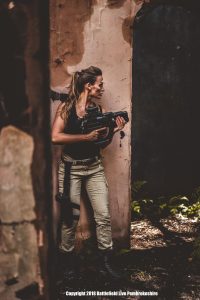 If you are looking for some outdoor adventure and fun with your family then you won't be disappointed by the Battlefield Live Pembrokeshire experience.
We are open all year and every Summer we are the first point of call for repeat visitors.  We have many families that visit us 3 or 4 times in the time they are on holiday here.
REVIEWS
"A Great Family Experience – Made the adults feel kids again!"
5 of 5 stars
We did this experience as something to finish the kids school holidays with. There were 2 adults and 2 children aged 12 and 9 and we all loved it. Firstly we booked it at the last minute and as we didn't have the right footwear Toria ensured that boots were provided for us as well as the overalls etc. The missions all take part in a great location in the woods with muddy tracks and hideouts – it was great. Our small group made up with other parties made a total group of about 20 which is split into two teams. The teams are lead by Steve and Beth who talk you through the missions. It was great as an adult to be able to roll back the years and jump and crawl around in the mud again. If you want something fun and active to do as a family do this as you wont regret it.
"Amazing Holiday Activity"
5 of 5 stars
This place was absolutely fantastic! We had a family group which included ages between 10-70 and even the teenagers loved it ~ everyone came home smiling & weeks later are still talking about it.
The staff were exceptionally friendly & organised, clear & helpful. The layout for the missions covered a large, varied area & were well designed. The 'weapons' were accurate & reliable with options for 'sniper rifles' available in certain missions. The outfits were clean and fitted well. Some of our group waited at the reception area (whilst the battle took place) and were looked after by staff with refreshments. The facilities were portakabins near reception. Parking was easy. We would definitely recommend this place & look forward to going again.
"Awesome fun for the whole family"
5 of 5 stars
A party of 13 of us booked in for the afternoon session. From the start it was all fun as we got into our camo gear and war paint. We were mixed in with other families in a fair way and splitting us up meant that we got to be on opposite teams. Then the real fun began! The guns were pretty easy to hold and to shoot, even for the smaller ones in our party (youngest being 9). We took part in 3 different games – Team Death Match (basically shoot the other team); Domination (each team had to try and take the opponents base with one person as a sniper) and Detonation (much more strategic capture the flag type game).
All in all this was amazing fun, probably one of the best activities we have ever done as a family. The Marshals were great, full of tips and advice. We talked about it all night afterwards. Can't wait to do it again! First class 🙂
YOU GET